What is low-cost counselling?
Low-cost counselling is talk therapy offered at a lower price than usual. The service may be provided by a trainee therapist working under the direct supervision of an experienced registered practitioner or a reduced fee offered to those with less ability to pay.
Examples of low-cost counselling
Pricing structure
Typically reduced fees can be offered on a sliding scale or a fixed rate, and sometimes free of charge.
Sliding scale
A sliding scale is an amount charged per session depending on your ability to pay. This is usually based on your income level; for example, if income is less than €30000, you pay €30 per session, and if income is over €30000, you pay €45. I do not like this type of payment method and have never used it in my private practice as coming to therapy for the first time is difficult enough without disclosing your income to decide a payment amount, plus, does the therapist ask for proof of income? This type of sliding scale may suit some, but I am not an advocate of it.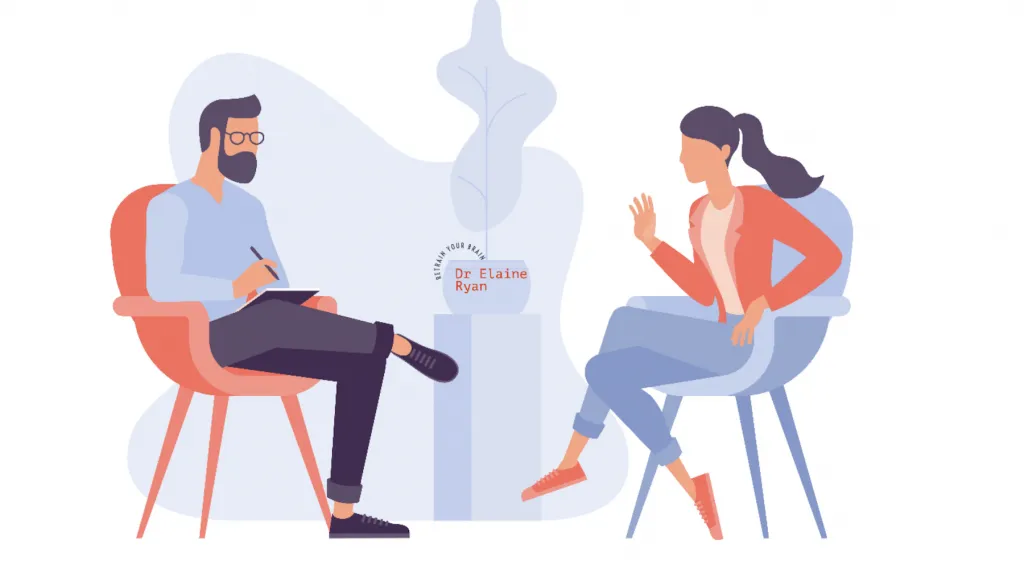 Retrain Your Brain
Online course for anxiety.
Based on Dr Ryan's private practice
Fixed fee reduced payment
Fixed fee reduced payment depending on therapists' training level. This is the most common low-cost counselling I have seen with a fixed price for therapy with a trainee therapist.
Student and unemployed rate
Student and the unemployed rate is a pricing structure I used in my private practice where a set lower fee is offered for those in education or currently seeking employment. I never asked for proof of education or unemployment, but this may differ from practice to practice.
Employee Assistance Programs (EAP)
Ask if your employer has an employee assistance program which will enable you to have therapy with a qualified practitioner for a fraction of the full price.
FAQ
Are there any counselling services available online?
Yes, there are counselling services available online. Various mental health services, including low or no-cost community counselling programs, are available through online sessions.
Can I get free counselling?
If you are a student, most universities and colleges have a dedicated counselling centre where their services are free. Psychologists staff some university counselling centres. Many years ago, I worked as a psychologist at NUIM.
Various organisations offer free counselling including.
Is the quality of low-cost therapy as good as full-priced therapy?
The quality of affordable counselling may differ just as full-priced therapy may differ.
Things to bear in mind include the following;
The skill level of the trainee. For example, when I was in training and seeing clients, I had already obtained an undergraduate degree and a Master's degree in psychology and was completing my professional doctoral training; this is typical of trainee psychologists. The care and expertise of a trainee psychologist may differ from therapy with a trainee completing a diploma or undergraduate degree.
The skill level and competence of the person supervising the trainee's practice. To use the example again of a trainee psychologist, when I was in training, my supervisors were all Doctors of Psychology with many years of experience, and most were consultants. This may not be the same for all trainees offering low-cost therapy.
Pros and Cons of low-cost counselling
Pros
Affordable therapy sessions
Private therapy is expensive and out of reach for many people, especially as we are going through a cost-of-living crisis. Counselling with a trainee therapist allows more people access to therapy services.
Ability to access qualified therapists
Access to quality mental health support is essential to leading a healthy, balanced life. However, the cost of traditional therapy can be prohibitively expensive, making it difficult for many people to access the support they need. Low-cost counselling is one way to bridge this gap and make accessing qualified therapists easier. By providing reduced rates for therapy, a person in need can find an experienced, licensed therapist to suit their budget. This can help ensure everyone has access to the mental health care they need, regardless of their financial situation.
Reduction of stress and anxiety
Low-cost counselling can be a massive help in reducing stress and anxiety levels. With a reduced budget, patients can attend regular sessions that provide their needed support without fear of straining their finances. This eliminates the added financial stress and anxiety of being unable to afford mental health treatment. Mental health resources such as phone and video conferencing, online and in-person therapy, and even free online programs can help individuals struggling with depression, anxiety, stress, and more. These resources provide helpful tips, tools, and information to help those with mental health issues. Through low-cost counselling, individuals can gain greater control over their mental health, thus reducing stress and anxiety.
Increased well-being and quality of life
Low-cost counselling can significantly impact one's mental health and overall well-being. By making counselling more accessible and affordable, individuals can take advantage of the mental health services they need without worrying about finances. This allows them to focus on their mental health and ensure they receive the proper support.
Also, low-cost counselling provides individuals access to virtual services, enabling them to get professional help from their homes. This can be especially beneficial for those unable to access traditional face-to-face counselling due to distance, disability, or financial constraints. By having access to virtual counselling, individuals can take advantage of the many benefits of therapy without the hassle of having to travel to an appointment.
Ability to pay for other needs
Low-cost counselling helps with other needs by relieving the financial strain of accessing mental health services. This allows individuals to be able to prioritize their mental health without having to sacrifice their different essential needs. In addition, having cost-efficient therapy options makes it easier for patients to receive timely, proper care, as they don't have to worry about spending a large amount of money that can be used for other needs. Ultimately, these affordable therapy options provide individuals with the help they need while removing the financial stress and anxiety of accessing traditional therapy services.
Cons of affordable therapy
May be working with a trainee and not a fully qualified therapist.
How to find the best fit and affordable counselling for you
What time of therapy will work best for you?
Therapy has changed over the years, especially post-Covid, where more modern counselling methods have become the norm. Your choices include
face-to-face
online
by voice
text, or
email
self-help programs
To choose between the therapy options, in addition to price, you first need to decide
your time commitment. Do you have the time to take off work to attend traditional face-to-face therapy, or
do you want to participate in this type of therapy as some people prefer the relative anonymity of online?
What kind of therapy do you need? For example, CBT is the therapy of choice for anxiety.
Does the therapist, trainee or online course provide the treatment you need?
There are several ways to find low-cost counselling services. You can contact your local community mental health centre, search online directories, or contact your insurance company. You can also look for sliding scale therapists or ask for a referral from a friend. No matter how you find affordable therapy, the most important thing is to get started.